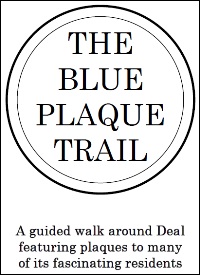 The Deal Society erects plaques to people who have had a significant impact on the town and, in many cases, nationally and internationally.
We have produced a leaflet describing a walk around Deal featuring plaques to many of the fascinating residents of the town, it is a 3¾ km (2¼ mile) walk around the streets of Deal, which should take you about an hour to complete. The leaflet is available from the Deal tourist information office or can be downloaded by clicking the image to the right (

pdf 600 Kb).
If you want to discover plaques in your own order, find the plaques not included in the walk or read more about the people commemorated on the plaque you will find them all on this map.

Criteria for a Deal Society Plaque
Plaques to a person must comply with all of the following criteria:
They must be a real person, not a fictitious character;
They must have been dead for at least ten years;
They must have made an exceptional contribution to this area and/or the nation;
They must be eminent in their profession or area of contribution;
The address at which the plaque is to be placed must be verifiably one at which they were resident;
They must have been resident at that address for a significant length of time during the period of their contribution, or have been born in the area.
Other plaques may be considered for a building where either:
A historical event of particular importance occurred; or
The building has an important historical significance.
Plaques will not be erected where they duplicate another plaque or memorial to that person in this area.
Plaques will be clearly visible from the public highway and permanently affixed.
Process
If you know of a person or building which fulfills the criteria, please contact The Deal Society at info@thedealsociety.org.uk. You will be asked for any information that you have to support the proposal and the society will make further historical enquiries as necessary.
If approved, the society will obtain any permissions required for the plaque and pay for it, although contibutions from interested parties will be welcome.