Deal's new cinema and pre-cinema museum, Kent Museum of the Moving Image (Kent-MOMI), has opened in 2018.
The Museum opens with four exhibitions. On the ground floor, "35,00 Years to Catch a Shadow: A Reflective Exhibition" challenges visitors to explore the Phenomenon, Arts and Technologies of the Shadow.
Three exhibitions unfold in the Museum's large upstairs galleries. One comes to Kent-MOMI courtesy of the Vinten family — a major Britain producer of cinema and television cameras. Another tells the story of "The Royal Polytechnic Institution and Multi-Media Victorian London".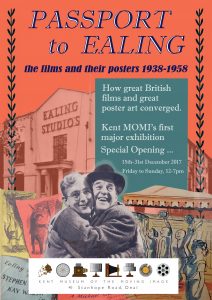 The Museum's fourth exhibition expands over three galleries, and spills over into corridors and the Museum's Viewing Room: "Passport to Ealing: The Films and their Posters, 1938-1958", a major retrospective of a unique moment in cinema history, when great British films and great poster art converged.
Location: 41 Stanhope Road, Deal, CT14 6AD
Website: www.kentmomi.org
Facebook: www.facebook.com/KentMOMI